Are you a player of fear factor??
Do you have got the enough courage to fight with hard circumstances??
Do you like to work independently?
Can you able to spend your time without your family in the water zone?
If your reply is yes for all above the questions, then you must make your career in Merchant Navy. It's a fabulous job opportunity for you, which can full fill your all needy requirements of life.
The special category youth, who want to do something different in their life!
or,
Who want to make different career of themselves!
can move to this optimistic career in merchant navy.
Important Note: There are so much opportunities in Cargo Industry. It is assumed that till 2020, 9% of the Indians from the overall workers will be included in this industry.

Present Condition of Merchant Navy
The people who are working in this field saying that, "So many people are required in this field of merchant navy, and India is the developing centre in this way!"
Usually foreign companies think Indians as the hard working persons. They have got positive nature towards their work. As well Indians are doing their shipping business very well. That's why, foreign companies also want to select Indians. Here, so many chances of jobs are available for youth.
If we talk about worldwide level then 1 lakh Indians are now working on 50 thousand Cargo Ships. It's the 7% of overall workers and no doubt it will surely reach to 9% till 2020.
Each country economic condition depends on need and supply. And to full fill the requirements of one country to another country, taking help from the shipping ways. That's why, Cargo Career plays an important role here.
Flexibility in the Working
You get the job on a contract basis in Merchant Navy. And, you also meet the so much flexibility in this environment. These all contract has different types like Paid vacation etc!
According to the contract, the person has to live, work & spend at least 6-7 months on the Ship. Then after, he can take leave from all duties and spend his time with the family.
A person has also the option of changing the company, if the company doesn't suite him. Also, the working person family has got the chance to travel on the ship. Just you need to make your visa for this purpose, and you have to take all expenditure of your family. Clubs, Internet etc facilities always available at each and every seaport.
Merchant Navy Salary & Packages
If you starting with the post of Deck Cadet, then you get Rs. 20,000 per month. In fact, a captain gets Rs. 4 lakh per month as the salary of merchant navy. And the main advantage of this salary is, it doesn't include in any type of taxes.
As your experience increases on the ship, you salary also increases in proportionally amount. If you want to take admission and make your career in merchant navy then, you have to give an entrance exam.
What is Merchant Navy Entrance Exam & How to Built Career in Merchant Navy??
Merchant navy entrance exam is a process to take part in the merchant navy career. It is done in different pattern with different steps-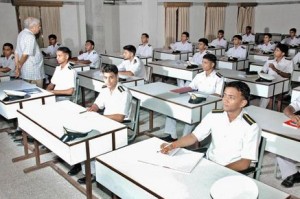 1. Students have to enroll in a course after completing the 12th class.

2. In this course, 1 year Pre-Sea program has to be done.

3. After that, you have to take training as a cadet on the ships for 18 months.

4. You also have to spend Approx. 4 months in the college. Now you have to clear second MAT exam.

5. After clearing that exam you can join as 3rd officer grade post from B.Sc. Nautical Science.

Important Note: After 12th, Including in the enroll of a course, 1 year pre-sea training and then training of 18 months on the Deck of Ship.
Students have to check carefully about the different colleges and institutes before taking admission in one of them. Students can also take refer from Government Merchant Navy Official Website www.dgshipping.gov.in .
Other Jobs in Merchant Navy Career
You can also change your job as the constant worker in the similar field, if you are entering in the age 30's. You can work in the Catering, Logistics etc field. The salary will always free from taxes, if you working in any merchant navy career.
Women have also many chances to do the job in this field. They can work as the safety management crew, flit personal recruitment crew etc.
Best Merchant Navy Colleges/Institutes in India
1. Indian Maritime University, Chennai (www.imu.tn.nic.in)
2. College of Maritime Studies & Research, Kolkata (www.himsar.net)
3. Shri Ram Institute of Marine Studies, New Delhi (www.simsnd.in)
4. National Inland Navigation Institute, Patna (www.nini.bih.nic.in)
5. Maritime Education Training & Research Institute, Kolkata (www.metrikolkata.org)