Are you considering starting a new career, but want to make sure it's one whose future will boom, not bust? One of the most recent developments in the job search industry is the evolution of the career coach. Resonance Pre-foundation Career Care Programmer (PCCP) Division, trains student of various National and International level Olympiads, is looking to join faculty post.
Resonance is inviting application from qualified job hunters forFaculty / FTP /MTP Openings. The two processes is going on i.e. first is recruitment process and the second is faculty training program (FTP) for the year 2014.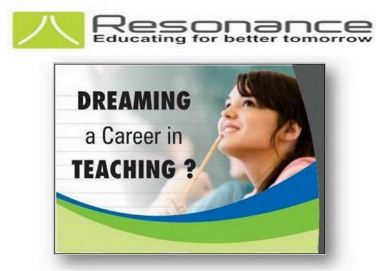 Organization name: Resonance coaching classes, kota
Name of Post:
1.Associate Professor / Senior Lecturer / Lecturer / Associate Lecturer
2. Associate Lecturer (Trainee)
3. Teaching Assistant Trainee
Eligibility: Engineering/Technology Graduate from any of the IITs/ NITs/Premier Engineering College or Science Post Graduate (with PCM up to 10+2 Level) & having excellent Academic record.
Subject: Physics, Chemistry, Mathematics, Biology, English
Date of exam:
Training Batch Start:
Phase 2 (01 April to 30 April 2014)
Phase3 (19 may to 20 June 2014)
Phase 4 (27 June to 26 July 2014)
How to apply:
Interested candidate can be contact through email id and visit on resonance website where they can apply online form.
Website: www.pccp.resonance.ac.in
Email id: ankita.j@resonance.ac.in
Address:
J-2, Jawahar nagar main road
kota (Rajasthan), 324005
Tel no. – 0744-2434727, 08824078330
Important Links: 
Link: http://www.resonance.ac.in/reso/contactus/career.aspx
Apply online: http://pccp.resonance.ac.in/jobs/
Share this Resonance Recruitment 2014 with everyone..!!