So many students get depressed & left studies, due to the poor financial conditions or many other reasons. They want to do degree studies like Engineering. Also, they want to get placed in MNC's and any other famous company with a good package, but somehow they can't do, due to many circumstances. In this way, they feel like out of mind or out of sorts.
Leave the studies, Is this only way of their future career??
Do all ways stop after completing 10th & 12th??
No….Never….!!
Then, what is the better option for these type of students for making their future bright??
Polytechnic Diploma Course is the best program for all those youngsters. It has also become one of favorite field of studies in India.There are so many choices in Polytechnic in many aspects. But first, we know about definition of polytechnic.
What is Polytechnic??
Polytechnic courses are also known as Technical Degree courses, which is generally run by ALL India Council of Technical Education (AICTE), in short, Government of India. These are Job oriented 3 years diploma courses specially in the engineering field.
You don't require any specific eligibility for taking admission in Polytechnic colleges. There are so many youngsters, who have done polytechnic studies and placed at good posts. These courses mainly focus on students technical abilities.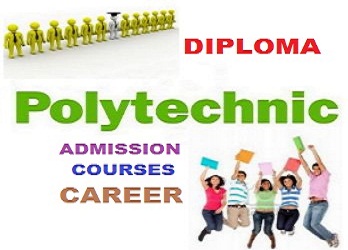 Polytechnic Diploma Courses after 10th & 12th
Polytechnic courses are not only for engineering focused, courses from the Art field is also involved here. In these all type of courses, mainly Diploma has been considered.
The good thing about this diploma field is-
You have become prepare here for each type of practical concept and training.

You can also start your own business after completing your diploma.
Diploma and Certificate Courses have been done in the Polytechnic courses, which is organised by State Government or Various Institues. Main courses are-
1. Fashion Designing

2. Various Engineering Diploma

3. Masscom etc
Choices in Diploma Courses / Thinking of Diploma Entrance Student
After taking the admission in polytechnic, students generally think that "Who will select b/w the b.tech holder or diploma holder while giving any interview?"
Students also think that "Surely Degree holders have more reputation than themselves."
But, I want to make you correct here. The need of company is your skills and talent. It doesn't depend on your degree or diploma!! Company will check your practical knowledge in an appropriate field, and will give credit for that knowledge surely.
Basically, B.Tech holders decide the plan and results of the projects. And, Diploma holders do that project work manually. In fact, If you have got any experience regarding the field, than also you can make your reputation yourself by showing your work. As an example: Your practical experience matters a lot. 
Polytechnic Admission or Entrance
1. You have to give a Common Entrance Exam for entering in Polytechnic Diploma field.
2. Selection will be made on the basis of First Come, First Get.
3. You have to make yourself registered at the right or decided time.
4. They will check your eligibility criteria and qualification according to their institute.
5. After clearing entrance & fulfilling those all requirements, you will give an entrance in that particular institute.
Generally, many institutes follow the career counselling process also before the Admissions. So, you can get necessary advices according to your interest.
After that,
If you get any problem after joining the course program, then you can also change your course . Many institutes provide such kind of facility. Many institutes also provide better hostel management services for outgoing students.
Economical View
Polytechnical Courses are very useful for those students, who are not much capable to invest money in their studies.
As Example: If you are good in fashion designing and make comfortable designs at your home then, you must take full formal training of this field through the Diploma Course.
Don't Make Your Financial Weakness to the Reason of Your Future Failure!
Thanks for taking your time to read this Article..!!
You can also take refer here for more details: