Are you Interested in Painting or Paint Technology??
Want to Make your Career Colorful by creating Painting Designs??
Trouble in finding Painting Jobs & Career in your nearest area??
If all these questions are true & necessary for you, then you are right up here on this post. Yes! you can easily make your career colorful as well as brighter with only using of colors. It's a very good career option for you in the aspect of salary purpose also.

These days so much foreign companies have come in the Paint Business, that's why this business has come as a good career option in front of us. And It's the only reason for improving the Paint Technique into the Paint Technology Course. It is called as Paint Technology.
You can find more information about Paint History here: Wikipedia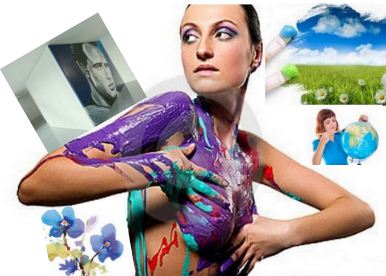 What is Paint Technology exactly??
Paint Technology course is divided in 3 categories:
1. Basic Course :
Educational Course based on Basic Science. The base of this course is related to the Chemistry branch, which is directly connected to the basics of chemistry.
2. Different Fundamental Stuff and Procedure/Mechanism Category Course:
The settlement of training based on Computer. In this way, this course directly belong to the Engineering & Computer subjects, where paint making & use of painting training are developed.
3. Painting Experiment Course:
This category of course manifests the painting by different experiments. As like various subjects of Surface Coating Course!
In the Paint technology course, different sides like Raw material, Prepare the Formula, Experimentation on Paint & Repository, Experimentation on Paints, Principle of Dry /Wet of paintings, Quality Controlling, Production related work, Design in the form of project, Training in Factories & Seminar have produced.
Compulsory Ability, Eligibility Criteria and Courses
1. You must have cleared at least 12th (higher secondary) class.
2. There are two type of courses as Graduate & Post Graduate.
In Graduate: 

The main courses are-
(I) B.Tech in Paint Technology

(II) B.Sc. Technology in Paints,

(III) B.Tech in Chemical Technology

(IV) B.Tech in Oil and Paint Technology

(V) B.Sc.(Tech) Paint and Varnish

(VI) Post B.Sc.

(VII) Diploma is Paint and Varnish Manufacturing

(VIII) B.Tech in Oil Technology
In Post Graduate:

The main courses are-
(I) M.Tech in Paint Tech

(II) M.Sc. in paint Tech
3. In both type of courses, Chemistry students are allowed.
Jobs, Scope & Pay Scale in Paint Technology
After doing this painting course, you can easily make your career by working in Production Department to Research, Distribution, Manufacturing etc dept. Also, you can make your career in customer dealing, printing & teaching.
Now if i talk about salary, then the pay scale of this field is so good. You can easily make Rs. 30,000 per month + bonus income also.
Main Institutes for doing Paint Technology Course
1. University Department of Chemical technology, Mumbai, Maharashtra
2. Harcourt Butler Technological Institute, Kanpur, UP
3. Industrial Researched Laboratory, Kolkata
4. Faculty of Engineering & Technology, Vadodara, Gujrat
5. University Department of Chemical Technology, Jalgaon, Maharashtra
6. Laxmi-Narayan Institute of Technology, Nagpur, Maharashtra
7. Deccan Education Society's Technical Institute, Pune, Maharashtra
Conclusion:
It's a very good career option for all those, who are creative and desperate in making of painting designs. One should not loose this excellent opportunity to make unlimited income.
Thanks for taking your time to read this article!!
Have a wonderful day ahead..!!