UPSC or Union Public Service Commission is one of the most challenging exams announced by the government. UPSC has opened many openings recently in many streams.
UPSC, Recruitment Program is inviting application (online) for 509 positions in the stream of CDS (Combined Defence Services) I recruitment in Indian Military Academy, Office Training Academy, Indian Naval Academy. All these are highly responsible post and UPSC has set certain criteria pattern for applying for these posts.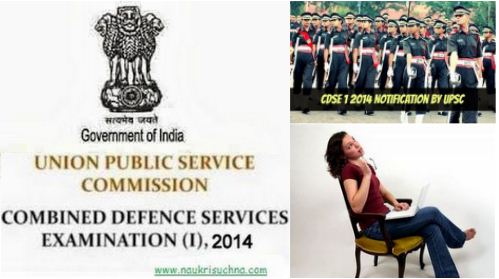 All the candidates who want to apply for these posts should have a certain set of eligibility. Criteria such as the age limit, process of applying, selection procedure, and deadlines, all are onset here.
UPSC CDS I Recruitment 2014 Details:
Job description: UPSC CDS (Combined Defence Services) I Examination
Available posts: 509 vacancies
Job names: Air Force Officers Training Academy, Indian Military Academy, Indian Naval Academy-
a)     Officers Training Academy(Men): 175 vacancy
b)    Officers Training Academy(Women): 12 vacancy
c)     Indian Military Academy: 250 vacancy
d)    Air Force Academy: 32 vacancy
e)     Indian Naval Academy:40 vacancy
Age criteria:
Bachelors born on or after 02/01/1991 and on or before 02/01/1996 for the post of Indian Military Academy as well as Indian Naval Academy,
for the post of Air Force Academy the unmarried male should not be born after 01/01/1996 and not before 02/01/1992,
for bachelor male and spinster female Office Training Academy the candidate should not be born before 02/01/1990 and not after 01/01/1996.
Educational criteria: Candidate should possess a bachelor's degree from a recognized university for office training Academy position, IMA, Bachelors degree with science background with Physics and Mathematics in+2levels,or a should have a graduation in Engineering for Air Force Academy and for INA should have an engineering degree.
Process of selection: written exams as well as Interview will solely select the candidates.
Procedure to apply: you can only apply via online for these posts before 02/12/2013
after successfully part 1 registration click here for part 2 registration :- Click Here
After clicking on the 2nd link enter the registration number  and date of birth and then done the whole process of completing the application form.
1.       Log on to the official website of UPSC www.upsc.gov.in.
2.       Now click on the link of "CDS Application Form 2014".
3.       Then fill all the mandatory details and upload the passport size photograph and signature in CDS application form.
4.       Then fill the Challan number which was  get by net banking and submit an application form.
5.       After that you take a print out of your application form.
Last Date: for online Application: 02/12/2013
Written examination date: 09/02/2014
All the best for exams!! 🙂