We are living in Technology World, where technology is improving day by day and producing new & amazing results & products every day. We have become dependable on these technology products & services.  In this way, modern technology has also opened many chances in jobs & vacancies. Many latest vacancies & opportunities have been opened in this technology world in the sector of Telecom Industry, which is the Fastest growing sector in India.
Don't Miss: Top IT Software Companies for Software Engineers & Developers
Now if we more talk about Telecom Jobs in India then mobiles and it's connected technology are the part of telecom jobs. At the present time, if we talk about mobile phones then it has reached from the cities to the villages. In this way, demanding of trend professionals also been increased in telecom sector at various levels. Figure says that "Currently India has over 900 million mobile subscribers and this figure is expected to reach one billion mark by 2014."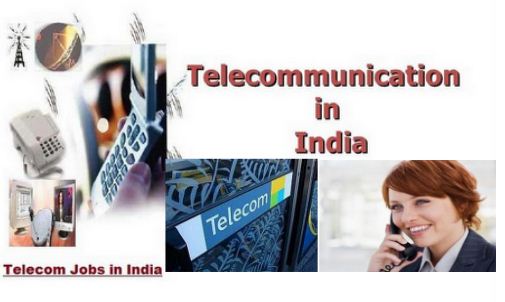 Technology is not easy in Telecom Industry:
The technology is not so much easy as you generally think about telecom sectors. The work of communication engineering is not only telecommunication but also, micro web and optical communication, digital system, signal processing, advanced communication and micro electronics also. Everyday new technology trend is coming into the market and replacing the old one, now the situation is that demanding of new products are increasing heavily in this way.
As an example: New technique 3G and Broadband Wireless are coming to the market, so the demand of data services and video services will surely on top in the future world.
*Role of Communication Engineers in Telecom Industry: 
Communication Engineers work in the different fields here like Designing of Chips and Fabricating, Advanced Communication examples: Satelite micro wave communication, Communication network solutions and similar types of different work in the electronic field. That's why, need of communication engineers in both Pubilc and Private sectors. Electronics and Communication engineers demand are high in each and every company. But B.Tech degree is needed in Electronics and Communication Engineering for this job purpose.
Don't Miss: Top 10 IT Companies in India
Career in Telecom Sector or Telecom Job in India for Engineers:
Th telecommunication industry comprises numerous areas with their various kind of jobs in the industry.  Freshers are always required in this field. It is said that "Freshers are always a major & Important factor of the recruiting plan in the telecom industry. They play a vital role here & certainly requires technical graduates with a good aptitude for testing, so that they can shine in this industry".
In this Telecom Industry many engineers like "Telecom Software Engineer, Telecom System Solution Engineer, Communication Engineers, Technical Support Provider, Research Project Supervisor, Network Engineers etc" have got good opportunities.
*Find your nearest Telecom Jobs in India:
Pay Scale of Telecom Engineers:
The starting average package of Telecome Engineers is 3.50 Lakh per year. In the entry level of technical field, salary reaches 15-20 thousand Rs. per month. Other way, non-technical field salary is about 10-15 thousand Rs. per month at the starting period. As the experience increases salary also gets increase.
Don't Miss: Why Govt Jobs are Better than Private Jobs
Courses Available for Telecom Engineering:
If you want to study the telecom engineering than there are various courses available in the India specially in IIT-Kharagpur. Here the main courses are:
B.Tech (H) in Electronic and Electrical Communication Engineering (4 Years Course)
B.Tech (H) in Electronics and Electrical Communication Engineering (5 Years Course)
M.Tech in Automation and Computer Vision (5 Years Course)
You can also get the double courses degree from IIT-Kharagpur. Courses are:
Electronics and Electrical Communication Engineering: Micro-Electronics and VLSI Design (5 Years Course)
M.Tech in RF and Micro Wave Engineering (2 Years Course)
M.Tech in Telecommunication Systems Engineering (2 Years Course)
You can also get the Ph.d degree from here. Except that, you can try into Delhi college of engineering & NIT's ( Kalikat, Roulkela and Karnataka) also.
Don't Miss: 5 Highest Paying Jobs in India
Conclusion:
It is the huge demand of Telecommunication Industry in the future world. If you want to make your career in this field or you are hesitating to do this course for income purpose than don't get hesitate and nervous. Income will automatically increase when you talent and skills will increase in this sector. But, in the starting of your career, you have to do hard work with determination. After that, Hard work will pay off. So try this telecommunication field for doing Govt & Private Naukri(job) to make a better future of yours and others.