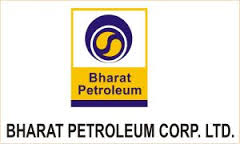 Bharat Petroleum Corporation Limited (BPCL) invites application for the recruitment of Management Trainee with B.E/B.Tech holders.
BPCL is now looking for young, energetic, ambitious Graduate Engineers in the field of "Mechanical | Chemical | Electrical | Civil |Instrumentation Engineering" for the post of "Management Trainee". Mechanical, Chemical, Electrical, Civil & Instrumentation Engineers desirous of pursuing a career with BPCL are required to appear for Graduate Aptitude Test in Engineering (GATE- 2015).
Company name : Bharat Petroleum Corporation Limited (BPCL)
Posts : Management Trainee
Qualification : B.E/B.Tech
Salary : Rs. 24,900/- P.M.
No of Post : 05
Location : Kochi
Last date to apply : 30 Jan 2015
Details of Post :
Online applications for GATE-2015 commence from 1st September 2014 and close on 1st October 2014.
Emoluments : Candidates selected as "Management Trainee" would be normally placed in Job Group "A" on a basic salary of Rs. 24,900/- (Scale of Pay Rs. 24,900 – Rs. 50,500). In addition, Dearness Allowance (DA) based on IDA pattern is payable. House Rent Assistance, if applicable will vary based on the class of city of posting.  The total emoluments at entry level for Management Trainees are presently Rs. 10.5 Lakhs per annum (approx. cost to company). This includes 50% of Basic Pay as Perks & Allowances, Performance Related Pay & 30% of Basic plus DA as superannuation benefits (Provident Fund, Gratuity & New Pension Scheme). Our perquisites currently include housing / vehicle loan facilities, medical reimbursement for self / dependant family members, LFA, Holiday home facility, Group Savings Linked Insurance Scheme etc.
Age as on 1.6.2015 : General Candidates : Maximum 25 years  OBC (Non Creamy layer) : Maximum 28 years  SC/ST: Maximum 30 years
PWDs with degree of disability 40% or above : Age relaxation of up to 10 years  Candidates domiciled in Jammu & Kashmir between 1.1.1980 and 31.12.1989 : Age relaxation of up to 5 years Ex-servicemen & Commissioned Officers (including ECOs & SSCOs, subject to rendering minimum 5 years' military service and fulfillment of other conditions prescribed by Government of India : Age relaxation of up to 5 years
General Instructions :
Only Indian Nationals are eligible to apply.
Candidates must have an active e-mail id, which must remain valid for at least next one  year. All future communication with the candidates will take place through e-mail only.
Candidates should have relevant documents like percentage of marks obtained in the  degree examination, degree certificate, date of birth, caste/disability certificate (if  applicable), e-mail id etc. readily available with them before they commence the ONLINE  application process. This information would be required at the time of filling-in the  ONLINE application.
Candidates presently employed in Central/ State Government, Autonomous bodies and  PSUs must submit 'No Objection Certificate' of their employer at the time of GD / PI  failing which they will not be allowed to appear for the selection process.
Candidates belonging to OBC category, but belonging to creamy layer would not be  entitled to the benefit of reservation and should apply as General Category candidate.
Candidates not found to be meeting the prescribed eligibility criteria shall be rejected at  any stage of the selection process.
BPCL reserves the right to cancel / restrict / enlarge / modify / alter the recruitment  process, if the need so arises, without issuing any further notice or assigning any reason  thereafter
Court of jurisdiction for any dispute will be at Mumbai.
While applying for the above post, candidate must ensure that he/she fulfils the  eligibility and other norms mentioned above, as on the specified dates and the  particulars furnished are correct in all respects. In case it is detected at any stage of  recruitment / selection that the candidate does not fulfil the eligibility norms and / or  that he / she has furnished any incorrect / false information or has suppressed any  material fact(s), his/her candidature will automatically stand cancelled. If any of the  above shortcoming(s) is/are detected even after appointment, his/her services are liable  to be terminated without any Notice, as the appointment would be deemed to be void ab  initio.
If any candidate attempts to use external influence for the purpose of facilitation his/her  selection, it would result in automatic cancellation of his/her candidature.
Important dates:
For  GATE  2015 : Commencement of on-line Applications for GATE  2015 on the websites of IITs / IIS 1st September 2014
Last date for submission of on-line Applications for  GATE 2015 on the websites of IITs / IISc 1st October 2014
Availability of online admit card 17th December 2014 onwards
Date of GATE 2015 online examination On Saturdays and Sundays  (Between 31 st January 2015 and 14th February 2015)
For  BPCL : Opening of BPCL recruitment website for online  submission of applications with GATE 2015
Last date of submission of online application 30 th January 2015
How to apply :
Candidates should apply Online from 17th December 2014 to 30th January 2015
Click here for GATE 2015 notification.