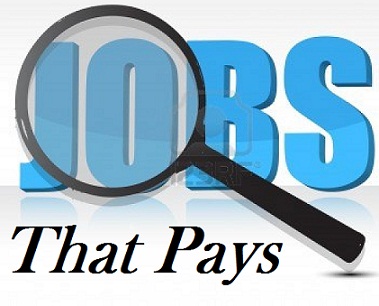 To get the best you have to be the finest among others. No doubt, every year there has been a tremendous amount of recruitment's in Companies in India. Tons of people are hired with a widely ranged salary package & career options. But what if that salary is not able to fulfill the basic necessity of day to day life. "Big jobs usually go to the men who prove their ability to outgrow small ones"– A famous quote by Roosevelt  which is perfectly true in this competitive World. "Highest Paying Jobs" are always in huge demand and therefore are toughest to acquire.
Generally we Indians opt our Careers that are either pursued or suggested by our Parents, Siblings, elder brothers, sisters or that is been followed for the last couple of years. We don't analyse the future scope and the work-salary ratio and end up with 30,000 per month salary for working 10-12 hours. So to resolve it I have made a list that includes the 5 Best and highest paying Jobs in India for which you can study hard and build a successful career with it.
5 Highest Paying Jobs in India
#1 Managment
Managment field has always been the topmost lucrative career for the big Money Dreamers. The salary package starts from 5,00,000 and can be easily doubled with merely 3-4 years of experience. The Corporate Sector is exponentially booming with modifications done by the RBI Governor Raghuram Rajan, and having a degree of MBA or PGDMA from a Quality Institution like IIM's can easily land your career in safe hands.
#2 IT Industry
Technolgy field in India has emerged as one of the best suited jobs for Freshers thanks to the 2 major IT hubs Pune and Bengaluru.
With the implementation of offices of Big Corporate players like Google in India, The whole IT industry has hired the largest number of employees within India for the year 2013. Engineers and Software Developers has gained the most from it. But before choosing this industry, don't forget to face the out of bounds competition that is currently  prevailing all around.
#3 Medical
The more experienced you are , the more you get paid– The only factor which will determine your salary Package in Medicine. It's an evergreen job. There is no season, no recession, not a single factor(including the falling rupee) that can cut your monthly package in this field of expertise. You maybe a doctor, a surgeon, a dentist, or a consultant, your fees are always decent that comes up with a uncomparable reputation. It may take a longer time as compared to other to get a Medicine degree. But once it is achieved can get a passive income just by sitting at your home.
#4 Chartered Accountant
Every Big organisation or Company have a Finance department and therefore need a Chartered Accountant(CA) to maintain all their records. Due to limited supply, There is a big demand of CA all around. An average CA can easily earn 7-8 Lakhs a year. But don't forget the amount of study you have to do to clear the CA final exams as it is considered to be the toughest exam to clear in the Country. Most suitable for analytical and eidetic memory person.
#5 Airline Industry
Becoming a Quality Software Engineer, Doctor, CA or an MBA holder in India is today's everyone dream and that's why you will see an unbeatable competition  in these career options and only 10% among all are able to achieve it. But if you want to make big Bucks without working hard(just like me, But I'm a Blogger) then I must suggest you to choose this among the other Highest paying Jobs.
Airline Industry in India has a much wider scope with a much lesser competition. The growth of Internet and the Growth of Airline industry are seemed  to be the synonym of each other in today's economy. Many new Airlines like Air India have Invested a bigger amount, and if you are successful to become a Flight Engineer or Flight Pilot then you can easily earn 8-10 Lakhs per year.
Although I have analysed all the major sources to provide you the Best and latest information about the Highest Paying Jobs in India, but it completely depends on your Capabilites on how much you are successful in a particular career option and how much can earn from it. Different fields have different perks and therefore I will still suggest that you must try to choose an option which lies in your interests.
Share 5 Best Career Options to get Highest Paying Jobs in India on Social Media